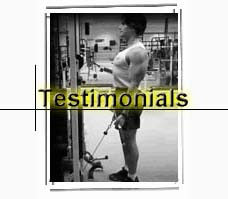 1-Workout Delivery wants you to feel comfortable and confident when you do business with us so we have put together this page of customer testimonials on our services, and products to assure you that you are our number one concern for quality customer service and support, without you we would not exist, and we never forget that. Feel free to call or e-mail the testimonials that elected to leave their phone number and or e-mail. We hope this will secure your confidence with us. We are here to serve you.
TRANSFORM WEIGHT LIFTING PROGRAM TESTIMONIALS
My Transform program was more than I expected. The program is tailor made to your specific needs. In my case the program had to be simple, understandable, and doable. I have never exercised or lifted weights and I am 56. I have also had back and shoulder surgery, so I was very apprehensive at first. My Transform program covers everything you need to know for success if you use it. I have had to learn some discipline and some courage to trust the information is correct. It has worked for me.

---
I am very impressed with the way my Transform program is tailored to my needs. It takes into consideration any limitations a person might have and yet develop a program that works all the body parts. The program is complete and lets you continue on your own.

---
My Transform program had more information than what I expected. Very informative and easy to follow.

---
The Transform program groups sets of exercises into modules focused on a particular body part or muscle group. It is easy to refer to my personalized book for instructions on each of these exercise routines, with pictures describing them for reference if necessary. The exercises are personalized with appropriate weight settings specifically for my needs.

---
My Transform program was very easy to follow, although much commitment needed, which is good. I am very pleased. I plan on more Transform programs to follow my current one.

---
The Transform program is tailored to fit. The exercises are different. I feel I have only been playing around up to now. These are serious. I feel I'm exercising with the stars or something. I am anxious to be able to do them with more ease and good form. The Transform program is very well done, and very helpful, it shows in the way it is put together.

---
I really like my Transform program. It is very helpful and answered all the questions I had. I think it is great. It is exactly what I wanted.

---
I have been working out on my own for about 5 years. I have noticed a significant change in my body in the 5 weeks that I have had my Transform program. It makes such a difference to exercise correctly. Prior to my Transform program I really did not see a body change.

---
I like how my Transform program was customized to my goals and ability. I really like the variety of exercises using both free weights and machines. It's nice to have a routine that doesn't take more than an hour.

---
I'm very impressed how my Transform program is set up just for me. I have really enjoyed going through the book. I feel comfortable going to the gym now, knowing how to use the equipment and knowing it's going to make a difference. What is nice is that you can make the workout hard or easy, it is all up to you.

---
My Transform program was very thorough, and a lot of fun. I feel I have more energy and I sleep a lot better. I would recommend the program to anyone interested in a overall training program.

---
I was a little apprehensive at first, but I am very glad I got my Transform program. Without the knowledge that I have gained by my Transform program I would be wasting a lot of time doing things the wrong way.

---
I would have to say that I'm very impressed with my Transform weight lifting program. You seem to go the extra mile. My personalized Transform program is great and the booklet is amazingly helpful. It helps to keep you on track. You never feel alone or like you don't know what to do or how to do it.

---
I really enjoy my Transform weight lifting program. It pushes me just enough. It keeps me focused and on track, which is a very good thing!

---
With already being pretty good about finding time to exercise, I contacted 1-Workout Delivery to make sure I was getting the most out of my workout routine as well as making sure that the exercises I was doing were correct in their form for maximum results without the potential of injury. After my first workout using my Transform weight lifting program, I could feel a big difference in the areas that my program targeted. After just 4 workouts within a month period of time, I was already getting noticeable comments, as well as a bonus of losing pounds!

---