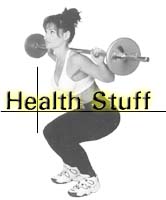 1-Workout Delivery believes in rewarding our customers for making us the most visited Workout Site.
You will find Free, Discounted Items, Tips, Specials, New Products, News, and Contests to thank you for visiting and supporting our site.
---
NEW STUFF -- SPORTBELL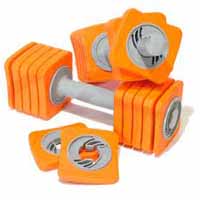 ---
WHAT IT DOES
Sportbell: You will enjoy your workout routine with a product that works as great as looks. The patented turbo-lock technology takes a traditional dumbbell to a whole new level. 10 sets of dumbbells in one neat package. Fast & safe weight changes in one pound increments. Simply slide & rotate the weight plate to lock securely onto the bar . . . no tools, no collars, no pins, and no trays are required for lightning fast weight changes. Sportbell replaces 20 individual dumbbells, making it ECO friendly by using 82% less raw materials than the equivalent 110 pounds of individual dumbbells.
Sportbell is a professional-level product designed and manufactured in our own USA facilities. So, regardless of your workout - circuit training, strength, toning, sculpting or muscle chaos, you will love the Sportbell for its incredible ease of use and ergonomic design. The Sportbell provides a stable base which is perfect for push-ups and plank exercises. You will enjoy owning the Sportbell system for years to come.
---
To find out pricing, ordering, and more information on this product
---