1-Workout Delivery gives you the power to get in shape with the results and convenience that only comes from personalized workouts. Imagine a totally private, one-on-one workout that gives you the results your body has long desired...
The three methods most commonly used to test body fat are the skin caliper, electrode/bioimpedance, and hydrostatic methods.
THE ELECTRODE/BIOIMPEDANCE METHOD
The electrode/bioimpedance method which measures the bodies' ability to conduct a minute amount of electrical current, which is based on the amount of lean body mass present is the most accurate mobile unit, it has a plus or minus accuracy of 3%
Electrode/Bioimpedance Unit

Electrode/Bioimpedance sensors attached to right foot

Electrode/Bioimpedance sensors attached to right hand
THE SKIN CALIPER METHOD
The skin caliper method which involves measuring skin folds, is the most inaccurate, it has a plus or minus accuracy of 5-6%.
THE SKIN HYDROSTATIC METHOD
The hydrostatic method, which involves submerging the body under water after exhaling all air from the lungs, is the most accurate, it has a plus or minus accuracy of 2%.
The hydrostatic and electrode/bioimpedance methods are almost identical in accuracy and are recommended for the individual that wants the truest body fat percentages.
AT HOME, OFFICE, OR THE GYM
1-Workout Delivery uses the electrode/bioimpedance method.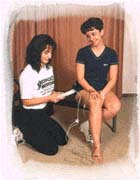 Our trainers will test your body fat at the home/office or at Your GYM. The body fat test is an ideal way to see the results you're working for.
The proof is in the read-out.
Each read-out contains:
Your body fat percentage, your body fat in pounds, and where you should be
Your Lean body mass percentage, your lean body mass in pounds, and where you should be
Your total body water in liters
Your Lean body mass to Fat ratio
Your age, height, weight, and gender
QUESTIONS
For questions on any of the Step Aerobics Services GO TO Q AND A to submit them
PRICES
$55.00.....1 Person
$50.00.....2 People (per person)
$45.00.....3-15 People (per person)
$40.00.....16 People and up (per person)
If you still have questions please call us at 503-691-8092.
Portland, OR
Clackamas, OR
Oregon City, OR
Beaverton, OR
Aloha, OR
Tigard, OR
Lake Oswego, OR
Gladstone, OR
If your area is not listed please e-mail us at LOCATIONS to let us know your location, we may be able to deliver there.
MAKING AN APPOINTMENT
If you wish to make an appointment click APPOINTMENTS to let us know what day(s) and time(s) you would like.
Please give your phone number as well as e-mail address, so we can get back to you right away on trainer availability.
Our hours of delivery are:
Monday - Friday 5:30AM - 9:00PM
Saturday - Sunday 10:00AM - 5:00PM