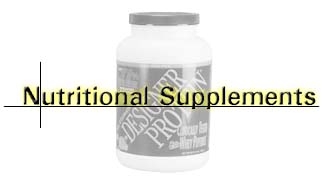 Since 1- Workout Delivery tests all supplements before including them in its product line, there is a rating from 3-4 stars for each supplement or combination of supplements performance and results. 3 stars meaning good, and 4 stars excellent.
Since every person has a different chemical make-up, our ratings may be above or below yours, therefore a good rating can become a excellent rating for you or vise versa.
---
Size: 50 tablets
Price: $20.95
U.S. Shipping: $5.95 for 1-2 units
International Shipping: $13.95 for 1-2 units
U.S. and International Shopping Cart Button
Vita Biotic formulates specific combinations of natural ingredients to nutritionally support health maintenance.
Top specialists in the field of nutrition and preventive medicine were consulted to develop this hypoallergenic, comprehensive nutritional product which is supported by scientific literature, and used by enthusiastic physicians throughout the country.
Ingredients per 2 tablets.
Vitamin A (Palmitate) 10,000 IU
Vitamin C (Sago Palm) 500 mg
Bioflavonoids(Citrus) 500 mg
Echinacea angustifolia root, seed, freeze-dried root 455 mg
Garlic(Allium Sativa) 195 mg
Myrrh (Resin) 195 mg
Vita Biotic A unique combination of vitamins, minerals and herbal ingredients specifically chosen for it's Ability to nutritionally enhance the body's immune defense mechanisms and as a nutritional adjunct when antibiotics are prescribed.
Ginger Root (Zingiber) 97 mg
Cayenne (Capsicum) 65 mg
Zinc(Gluconate) 15 mg
Vitamin B-6 (Pyridoxine HCI) 15 mg
Magnesium(Amino Acid Chelate) 15 mg
DIRECTIONS: As a dietary supplement to aid in acute infections - take 2 tablets every 2 hours
As a dietary supplement to aid in chronic infections - take 2 tablets every 4 hours.
As a dietary supplement for general immune enhancement - 2 to 4 tablets per day.
1-Workout Delivery gives VITA BIOTIC